Nocautes brutais marcam edições do LFA 78, ACA 101 e ONE Championship no último fim de semana; assista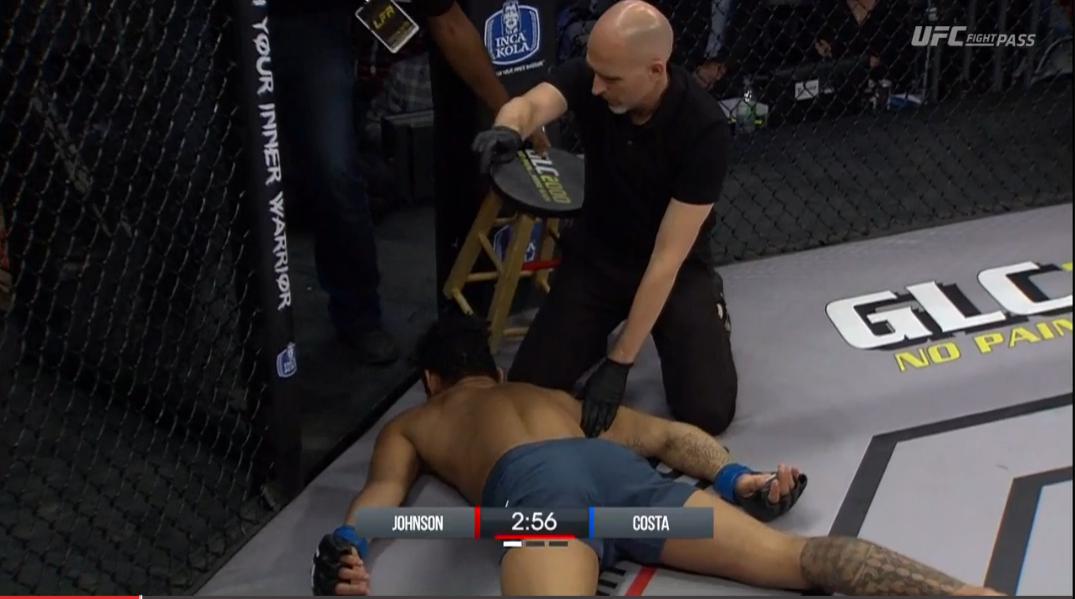 Um dos principais fornecedores de talentos para o UFC, o LFA realizou sua 78ª edição no último fim de semana, no Texas (EUA). Na luta principal, em duelo pelo peso galo, Adrian Yanez derrotou Kyle Estrada por decisão dividida dos jurados.
Já Rafael Costa, o único brasileiro presente no card, sofreu um duro nocaute. O lutador foi tentar a queda, mas recebeu uma duríssima cotovelada do americano Jose Johnson e apagou no mesmo momento.
One of the most brutal elbows you'll ever see streamed live tonight on @UFCFightPass, courtesy of @LFAfighting's Jose Johnson.

Check out a full event replay here: https://t.co/0bfMsJqjE0 pic.twitter.com/2CrvC9L2Do

— MMA Junkie (@MMAjunkie) November 16, 2019

ACA 101 tem vitórias brasileiras
Ex-lutador do UFC, Dileno Lopes venceu o americano Rob Emerson com uma guilhotina no segundo round pelo ACA 101, disputado na Polônia. Já Elias Silvério, que também tem passagem pelo Ultimate, superou o polonês Aslambek Saidov por unanimidade. Na luta principal, Piotr Strus bateu Nemchinov por decisão.
Na divisão dos pesados, Daniel Omielańczuk "desmontou" Denis Smoldarev com uma cotovelada, enquanto Radosław Paczuski respondeu bem as investidas de Daniel Plonka e nocauteou o rival de maneira cirúrgica.
the best short elbow on the planet
KO by Daniel Omielaczuk (ACA) pic.twitter.com/DGleDDIIEm

— Jolassanda (@Jolassanda1) November 15, 2019
stiff
KO by Radosław Paczuski (ACA) pic.twitter.com/pSXshjkGi8

— Jolassanda (@Jolassanda1) November 15, 2019
ONE Championship agita China
Realizada em Beijing, na China, a edição do "ONE Championship: Age of Dragons" teve disputas de Muay Thai, Kickboxing e MMA. Nas artes marciais mistas, destaque para a chinesa Bo Meng, que estreou na organização com vitória por nocaute técnico sobre a argentina Laura Balin. Outra lutadora que nocauteou foi a indiana Ritu Phogat, diante Nam Hee Kim. O filipino Jeremy Miado, por sua vez, acertou uma joelhada voadora em Li Tao Miao para garantir um belo triunfo. A edição não contou com lutadores brasileiros.
The lone loss on Zhang Weili's record, Meng Bo (14-5), mows down her ONE debut with a first-round knockout of Laura Balin! The Chinese fighter owns four straight wins and three consecutive finishes. She has stopped eight in round one. #ONEChampionship #AgeOfDragons pic.twitter.com/i0IWaZoEm0

— Kyle Johnson (@VonPreux) November 16, 2019
The first of her famed wrestling family to hit MMA, Ritu Phogat (1-0) steamrolls Nam Hee Kim with takedowns and steady ground 'n pound en route to a merciful, first-round TKO from the mounted crucifix. Expect the former Commonwealth Games gold medalist to be pushed. #AgeOfDragons pic.twitter.com/bflEjy8u0i

— Kyle Johnson (@VonPreux) November 16, 2019
Jeremy Miado (9-4) brings a crushing end to first-round chaos, clattering Miao Li Tao with a jumping knee to kick off the main card! The Filipino "Jaguar" has stopped each of his last three wins with strikes. #ONEChampionship #AgeOfDragons pic.twitter.com/Poc99AKTsG

— Kyle Johnson (@VonPreux) November 16, 2019